Advisor Commentary
Happy New Year to everyone! We hope you and your families are doing well and staying healthy. The first three weeks of 2022 have brought volatility back into the discussion triggered by several persistent macro-economic factors, most notably, inflation, supply chain disruptions, central bank policy and lingering Covid measures. While these factors are certainly unique relative to their being the result of a global pandemic, the recent market volatility does not come as a great surprise to most professional investors. In fact, we reminded readers in last quarter's newsletters that corrections of 5% or more historically occur at least three times a year on average and corrections of 10% or more at least once a year. However, these drawdowns have been noticeably absent since March 2020 as markets continued to climb in the hopes of a return to normal on the horizon.  
In a world where instant gratification comes so easily, one of the hardest things for many investors today is to be patient and maintain their position as long as doing so is warranted based on the prospective return and risk capacity. Investors can easily be moved to sell by news, emotion, the fact that they've made a lot of money to date, or the excitement of a new, seemingly more promising idea.  It is vitally important for investors to remain focused on their end objectives and not allow short-term noise to get in the way of accomplishing their long-term objectives. 
The consensus for 2022 among portfolio managers and economists that we trust and talk to regularly is still quite optimistic and most experts seem to agree that we are somewhere in the mid-market cycle. Keeping you informed and up to date on current themes and market trends has always been a top priority for us as we believe that knowledge is power in investing and that investors are less likely to make mistakes when they understand the decision making that goes on at a portfolio level on a day-to-day basis. In that spirit, we would like to dedicate the remainder of this quarter's newsletter to sharing 2021 year-end reviews and 2022 outlook from some of the portfolio managers we trust and respect.  For your benefit, we have provided some insightful excerpts from each below and embedded the link to the full reports for those who are interested in taking a deeper dive.  We encourage you to review the commentary from the investment firms and managers whose mandates you own in your own portfolio. 
Fidelity Investments – Economy: Shifting Policy & Potential Volatility 
"The economy has likely passed its peak rate of growth, but a sustained expansion is the most likely scenario."

 

"We believe the mid-cycle environment should be generally constructive for asset markets in 2022, but markets will likely be more volatile."

 
IA Clarington Investments: 2022 Market Outlook 
"The key to adding value in 2022 will be active management and asset allocation, as well as a good dose of discipline."

 

"In our view, the Canadian economy (and market) should continue to shine in 2022, with its healthy labour market

creating the bedrock for solid, sustainable growth."

 

Loomis Sayles

– "Our focus remains on

investing in companies that we believe have the ability to successfully navigate the current environment and generate value over the longer term.

 

Vancity Investment Management –

"Companies that have strong audit programs for environmental, social and governance (ESG) factors throughout their supply chains tend to be more resilient to supply chain disruptions."

 
EdgePoint Wealth Management – Trust the Process 
"

Over the years we've developed a set of unconventional patterns that can result in great businesses being mispriced. Investors avoid uncertainty – they don't like to defer gratification; they prefer the conventional and would rather own companies that are already great instead of ones that are on a journey to get better. Seeing these businesses isn't easy, but that usually means other people miss them to. By continually applying our investment approach, we believe we can keep buying businesses at prices below what they're worth to help investors get to their Point B."-

Andrew Pastor, Portfolio Manager

 
AGF Investments – The Rise of Everything 
"Caution is advised as investors head into 2022 – but not at the expense of optimism. W

e believe a bias of equities over fixed income within a 60/40 portfolio remains the most prudent allocation for now."

– Kevin McCreadie, CEO & CIO AGF Investments.

 
CI Asset Management – Into the Omi-verse – Wash, Rinse, Repeat 
"

For a brief time, it looked like our 2021 post-pandemic reopening boom narrative was back on track. The impact of Delta was to slowdown and extend the recovery over a longer time frame – two steps forward, one step back. For investors, an extended period of slower but still well-above trend growth versus the original envisioned boom bust was ironically a more desirable outcome.  Overall, we expect 202

2 to be a good (not great) year for equity markets supported by still favourable earnings growth." –

Drummond Brodeur, Portfolio Manager – CI Global Income & Growth Fund

 
Updates
RRSP Contributions for 2021 Tax Year:
This is a reminder that you have until March 1, 2022 to make an RRSP contribution and claim a deduction for your 2021 income tax return. An RRSP account keeps your investments tax-sheltered until withdrawal and is Canada's best individual retirement savings tool. The maximum RRSP contribution limit for 2022 is 18% of your 2021 earned income (less pension contributions and matching) to a max. of $29,210.  
2022 Tax-Free Savings Limit:
The new annual TFSA contribution limit for 2022 remains at $6,000, matching the amount from 2019-2021.  
With this TFSA dollar limit announcement, the total contribution room available in 2022 for someone who has never contributed and has been eligible for the TFSA since its inception in 2009 is $81,500.  For those who have contributed before, you can find your remaining TFSA contribution room in your Notice of Assessment or through your CRA account online HERE.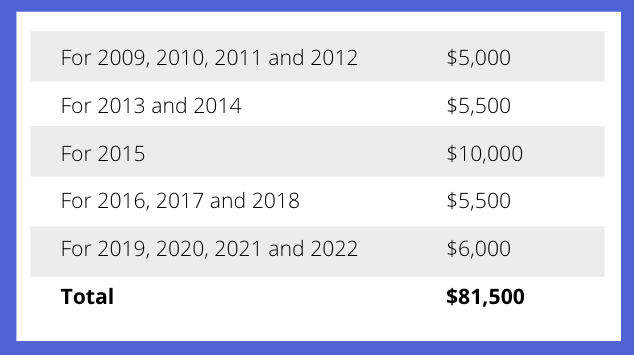 Year-End Statements:
Please be advised that your 2021 year-end Perfect Timing / Investia Financial Services Inc. consolidated PORTFOLIO SUMMARY has been reviewed and mailed. You may also receive administrator statements as well as a required regulatory duplicate copy of this statement from our Investia Head Office. If you haven't already, please ask us about our online access and e-Delivery services in our continued effort to act in an environmentally conscious manner. 
Encore:
We are excited to announce the launch of our new educational portal encore which provides exclusive access for clients of Perfect Timing Family Wealth to videos, podcasts and educational materials not available through mainstream outlets. Included with your year-end investment statement in the mail was a brochure with additional information and details on how to subscribe.  You can also CLICK HERE to subscribe directly through our website.  
Greg Valliere Interview Recording:
We had a great discussion in November with AGF Investment's Chief U.S. Policy Strategist Greg Valliere where we discussed the top trending political themes and how they will shape domestic and foreign markets for investors.
We received great feedback from many of you who were able to join the event live which we greatly appreciate. For those who were not able to attend the live event, you can still watch the recording by CLICKING HERE or subscribing to Encore.