Advisory Commentary
Happy New Year Everyone! We hope that you had an enjoyable holiday season with family and friends.
In an industry that continues to consolidate, we are resolute in our commitment to maintaining our independence to ensure that the advice you receive is completely unbiased and uninfluenced by corporate interests. Fortunately, with that independence comes a tremendous amount of access to the best portfolio managers, investment analysts, economists, and tax and legal experts that the Canadian market place has to offer. As we have in years past, we would like to share with you some of the 2022 year-end reviews and 2023 outlook reports published by the same industry experts that assist us in managing your investment portfolios on a day-to-day basis. We have compiled what we feel are some of the most noteworthy excerpts here but you can also find the full reports below if you care to take a deeper dive.
Sébastien Mc Mahon 
|
Chief Strategist, Senior Economist and Vice-President, Asset Allocation & Portfolio Manager 
iA Investment Management Inc. 
"If 2020 was the year of the virus and 2021 was the year of the jab – to our arms and the economy – then 2022 has been the year of the hangover, a natural and unpleasant side effect of the hefty dose of medicine administered to the economy.  
Chief among the hangover symptoms is, of course, the first true inflationary wave in about 30 years, or since the Bank of Canada adopted inflation targeting. All the elements were in place for inflation to rear its ugly head: distorted global supply chain disruptions, a massive wealth effect supported by historic fiscal and monetary stimulus, and of course the shock that was Russia's invasion of Ukraine, which disrupted food and energy prices.  
Given all of this, it is no surprise that central banks would play such an outsized role in shaping the events of 2022.  
Of course, markets are forward looking and are already pricing in a large part of this soft economic scenario. While it is always luck rather than skill to pick the absolute bottom in equities, investors with a long-term horizon could do worse than put money in stocks when Wall Street is already in a bear market. The Canadian stock market in particular is trading at a deep discount to both its historical valuations and the current U.S. market, which means potential for both downside protection and excess upside. Meanwhile, fixed income is offering the most attractive yields in over 15 years, making it an interesting proposition for any portfolio. While 2022 was a historically bad year for balanced funds, the future is looking good.  
Disciplined active management will be the key to mitigating the risks and seizing the opportunities of the complex market landscape that awaits us in 2023. " 
IA Clarington Investments: 2023 Market Outlook 
Kevin McCready

|

CEO and Chief Investment Officer

 

AGF Management Ltd. 

"While volatility is expected to continue in the early part of 2023, the Fed and other central banks are poised to end their respective tightening cycles in the coming year, opening a path for markets to rally with more conviction. But the return to more "normal" interest rates means the next bull market, when it arrives, will likely look much different from the last one driven by ultra-accommodative policies that were put in place following the Global Financial Crisis more than a decade ago. 

"Cautious optimism" may be the most overused two words to explain investor sentiment right now, but there's no better way to express how many of us feel heading into 2023. Over the past year, we've been through the proverbial wringer, suffering bear markets in both stocks and bonds as central banks torridly raised rates to fight an inflation rate that has proven anything but transitory – and has not been this high in decades.  

And while the rally in equity markets in the late fall seems like a sign of better days ahead, it also feels too good to be true and that more time is needed before the worst of the upheaval is finally behind us." 

AGF Investments: The Return of Normal 
Andrew Pastor

|

Portfolio Manager & Partner 

EdgePoint Wealth Management Inc.  

"A lot has happened over the last three years, but our approach to growth investing hasn't changed.  

We look for durable businesses that can be materially larger in the future (growth companies) and try and get the growth for free (value investing). Durability matters because it allows the companies to survive a wide array of outcomes in the near term to grow over the long term.  

How do you find growth and not pay for it in the stock market? You need to have an idea about a business that is different than consensus. When we make an investment, there's often uncertainty about the businesses' prospects. If there weren't, the opportunity wouldn't exist. Put simply, we own a portfolio of non-obvious growth companies.  

Sometimes the opportunities exist in high-multiple stocks, other times in low-multiple stocks. The only thing that matters is the quality of the insight – our view of the business's future relative to others." 

EdgePoint Wealth Management: New Growth? 
Drummond Brodeur 

|

Senior Vice-President and Global Strategist

 

CI Global Asset Management 

"If there is a big silver lining to the market mayhem in 2022, it is that the decade long war on savers is over. Interest rates and bonds are back to being attractive investment options for investors looking for income. For much of the past decade with interest rates at and below the level of inflation, (i.e., negative real interest rates), savers had no truly low risk alternatives for either generating income or protecting the purchasing power of their savings. Negative real rates are the true enemy of the retirement savings industry. 

As painful as the reset process is for existing fixed income owners, the options in fixed income on a forward-looking basis have not been this attractive in well over a decade. With government bonds yielding 4s, investment grade yielding 6s and high yield offering 9s, I can truly say that for investors and for income generation, Bonds are Back! That is saying something coming from one who has spent three decades in global equities!" 

CI Asset Management: Are We There Yet? 
Anne Richards

|

CEO

 

Fidelity International 

"The shift in monetary regime, from one supportive of global markets to one with a focus on taming inflation is challenging the outlook for assets and global economic growth and has led to both the ongoing volatility that has been a feature of 2022 and increasingly tight liquidity conditions. 

However, there are signs that some of the pressures of 2022 may ease into 2023, particularly in terms of supply chain disruption and transport.  Prices for air, sea and land freight are falling and the backlogs created by Covid lockdowns are easing, which may help to soften the blow on consumption.  

The gradual removal of quarantine restrictions globally has boosted investor confidence, with China now the only major economy where significant requirements are still in place.  Further relaxation there would remove a distinct hurdle for both China and the global economy. 

With so many factors in play, and many of these pointing to increased downside risk, we maintain a cautious outlook in preparation for the next 12 months of uncertainty, whilst always being mindful that markets are forward-looking and sentiment will rise before the data shows the economy to be on an improving track."  

Fidelity Investments: Navigating the Polycrisis 
202
3
Tax-Free Savings Limit:
The new annual TFSA contribution limit for 2023 has increased to $6,500. 
 With this TFSA dollar limit announcement, the total contribution room available in 2023 for someone who has never contributed and has been eligible for the TFSA since its inception in 2009 is $88,000.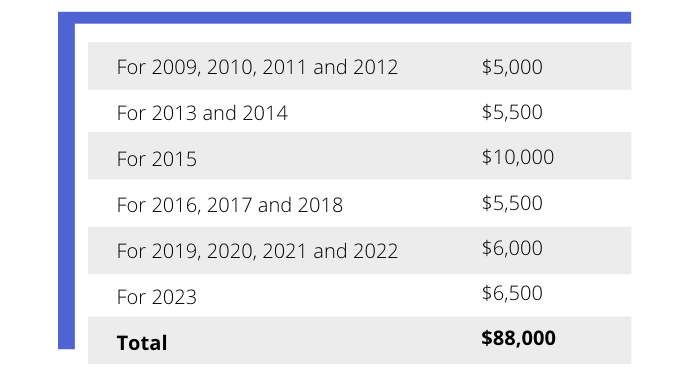 RRSP Contributions for 202

2

Tax Year: 
This is a reminder that you have until March 1, 2023 to make an RRSP contribution and claim a deduction for your 2022 income tax return. An RRSP account keeps your investments tax-sheltered until withdrawal and is Canada's best individual retirement savings tool. The maximum RRSP contribution limit for 2023 is 18% of your 2022 earned income (less pension contributions and matching) to a maximum of $30,780. 
For those who have contributed before, you can find your remaining TFSA and RRSP contribution room in your Notice of Assessment or through your CRA account online HERE. 
Year-End Statements

:
If you have not already, in the coming days you should expect to receive paper statements from various institutions involved in the ongoing management of your investments.  Please note that if you have registered for online access and opted in for electronic statement delivery, those statements will be made available through the online portals for which you are registered. You may receive a separate email notification about this. 
Please also note that as a result of feedback received from clients in previous years and in an effort to minimize unnecessary duplication and be environmentally friendly, we will not be mailing paper statements at this time.  Should you still wish to receive a statement though through regular mail or by email directly from our office, please notify us at service@perfectiming.com and we will be more than happy to provide one. 
To reduce paper statements received from other institutions, you can register for online access using the instructions below and opt in for e-statement delivery when prompted. Please contact our office should you have any further questions. 
Instructions to register for online access with: 
Investia Financial Services 
Go to our website (

www.PerfectTimingFamilyWealth.com

)

 
Click "Investor Login" and/or "QROPS Investor Login" (if applicable) in the upper right corner of the landing page

 
Click "Create Account" - You may have to agree to a disclaimer before getting to this page

 
Enter your personal information and account number when prompted – please inquire with our office to obtain this information if needed

 
B2B Bank Financial Services 
Phone B2B Bank Client Services at

1-800-263-8349

 
You will need your B2B plan number(s) available – please inquire with our office to obtain this information if needed