We came across a unique quote from Winston Churchill on social media this past week:
"Democracy is the worst form of government – except for all of the others that have been tried."
In somewhat the same vain, perhaps we should consider the following in these economic times:
"Buy and hold can seem like the worst investment strategy but it also seems to beat all of the others as well." Credit: Mark Walhout
Is this actually true? Well, consider the following table below that shows very challenging investing times during past recessionary periods dating back to the 1940's with the following cumulative investment returns as represented by the S&P500 index. Recessions are part of a normal cyclical economic process. But with a well thought out long term investment plan, recessions really do not matter in the years to follow.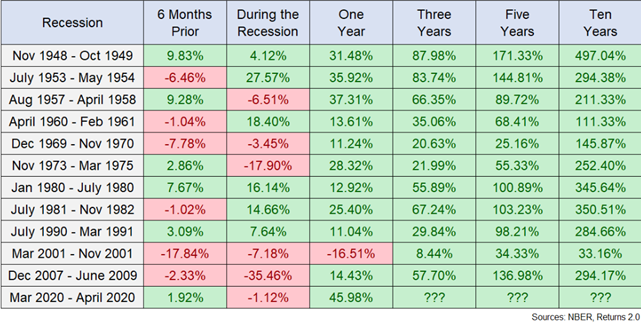 Let's take this type of perspective and see how some of our friends in the media depict such times. As self-stated, "CNBC is the recognized world leader in business news and provides real-time financial market coverage and business content consumed by more than 355 million people per month across all platforms". During any troubling times, CNBC runs an ominous special they call "Markets in Turmoil". One such special just ran this past May. Below is a table showing market returns from the same S&P500 index following the airing of these specials. Quite the telltale I would submit.
Let's have a bit more fun and consider in the same vain an ultra-current, high tech analysis from our pioneering friends at Google.
What happens to markets in the 12 month periods following which the search word "recession" is trending the most on Google? Other than the extended financial crisis of 2008-2009 (which this is not), once again the results are revealing.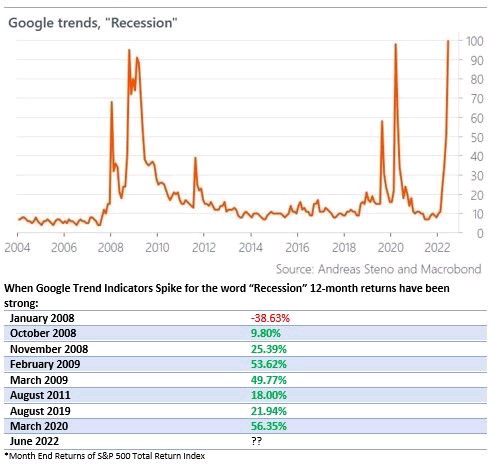 These last two examples are anything but scientific from an investment analysts perspective but they do emphasize the effects human behaviour on markets. And please remember, for all our of clients, end after fee results over reasonable time periods are even better since we never invest in the "market", we only invest in well structured, professionally managed, diversified portfolios of the best businesses in the world.
We hope these factual real life examples serve to add valuable perspective as you consider and review things at this time. Long term, well thought out investment plans work. When maintained in a disciplined manner, effective plans not only preserve but also nurture wealth creation, securing a future standard of living for you and your family. This is especially important in times of increased inflation such as now.